Glenn Miller

The Sound of an Era

This article is based on a series published in the Show section of the Chicago Sun-Times over a four-day period spanning Christmas 1984, commemorating the 40th anniversary of Glenn Miller's tragic disappearance. The final paragraphs were added in December 2000 to inform visitors about music in the Miller mood as we left the 20th century and entered the next.
"Maj. Glenn Miller, director of the U.S. Air Force Band, is missing on a flight from England to Paris, it was announced today (Dec. 24)Ö. No trace of the plane has been found." The New York Times, Dec. 25, 1944.
Tens of thousands of American families already had learned that a loved one was killed or missing in the war. Now the family of Glenn Miller learned their tragic news; now the world knew it as well.
There was little chance that the small plane carrying Miller would be found. It disappeared 10 days earlier in heavy fog and rain over the English Channel, on the eve of the Battle of the Bulge. Miller was en route to Paris in advance of his large orchestra of the Allied Expeditionary Forces (AEF) to make final plans for a Christmas Day concert for Allied troops.
The concert was scheduled to be--and was--the first in a series of appearances for Miller's immensely popular "Band of the AEF" on the Continent. Since the orchestra's arrival in England shortly after D-Day, Miller and his men had been playing a grueling schedule of concerts, dances, and radio broadcasts--"bringing a touch of home to our fighting lads," as Miller put it.
The atrocious weather already had delayed Miller for two days. Anxious to make the crossing, he accepted an offer to make the trip on Dec. 15 with Col. Norman Baesell, who was going to Paris on that day no matter what. Baesell had to conduct essential war business; namely, he had to refill empty champagne bottles for the holidays.
According to Miller's biographer and friend, George T. Simon, when Miller boarded the small plane, the band leader asked Baesell where the parachutes were.
"What's the matter, Miller?" Baesell asked. "Do you want to live forever?"
Maj. Alton Glenn Miller was only 40 years old when he disappeared. The Iowa-born band leader left behind his wife, Helen, and their two small children--a son, Stevie, adopted in 1942, and a daughter, Jonnie (whom Miller never had a chance to see), adopted in late 1944. Both were adopted from the Cradle Society in Evanston, Ill. Helen died in 1966; the children, who have no personal recollection of their father, have pursued lives outside of music.
Miller also left behind a legacy in the world of popular music that seldom has been equaled. To put his role in that world into perspective, especially for members of later generations, it is not an overstatement to say that no musical group captured the public's attention as much as Glenn Miller's orchestra until the Beatles came along in 1964.
Yet only a few years before his disappearance, Miller was barely known, except by fellow musicians, who regarded him as a gifted arranger and a competent trombonist.
Miller's First Band

The Swing Era, launched by Benny Goodman in 1935, created a powerful demand among ballroom, nightclub and theater owners for orchestras. Glenn Miller formed his first orchestra in 1937 and played a number of engagements in various parts of the country throughout the year. But Miller's first band had no distinctive style of its own and simply didn't catch on.
In 1976, Benny Goodman told me how despondent Miller had become by the end of 1937. Their friendship began in the late 1920s, when they played in Ben Pollack's band and shared an apartment in New York City.
"Glenn was never a great trombonist," Goodman said, "and for the life of me I never understood why or how he was going to lead his own band. In late 1937, before his band became popular, we were both playing in Dallas. Glenn was pretty dejected and came to see me. He asked, 'What do you do? How do you make it?' I said, 'I don't know, Glenn. You just stay with it.'"
The Miller Sound

Miller did "stay with it," forming an entirely new orchestra in 1938. This was the band that eventually would challenge Goodman's in popularity. This was the band that would become synonymous with the Swing Era. This was the band that featured the unique "Miller sound."
Glenn Miller and his new orchestra soared to nationwide popularity in the summer of 1939 during their lengthy engagement at the Glen Island Casino in New Rochelle, N.Y. Glen Island was the premier ballroom in the nation, thanks to its proximity to New York City, its popularity among Ivy League college students, and especially its live, nightly radio broadcasts heard from coast to coast.
During the next three years, Miller and his band made one hit record after another. "The Miller sound" became the sound of an era. By the time Miller disbanded his civilian orchestra to enlist in the Army Air Force in September 1942, one out of every three nickels dropped into a juke box went for one of his many hits. These included In the Mood, Tuxedo Junction, Little Brown Jug, Moonlight Serenade (his theme), Kalamazoo, Chattanooga Choo Choo, American Patrol, At Last, Serenade in Blue, Danny Boy, Moonlight Cocktail, Adios, I Know Why, and dozens of others.

What made Millerís music so incredibly popular was that it was so listenable, so danceable and so easily identifiable. The key to the bandís immense success was "the Miller sound," an ingenious voicing of the reeds that Miller came upon while playing and arranging for British-born Ray Nobleís band in the mid-1930s.
Miller scored the lead trumpet one octave higher but in unison with the lead tenor saxophone, then provided divided harmonies for the other saxophones. Noble wasnít impressed with the sound, so Miller saved it for himself, later substituting a clarinet for the trumpet lead. (Beginning in 1949, another British-born musician, pianist George Shearing, used a similar voicing technique for piano and vibes with his quintet. Shearing told me of his indebtedness to Miller when I interviewed him in 1978 during a Cafe Carlisle engagement in New York City.)
Millerís band featured first-class musicians playing sophisticated arrangements made by Miller and his two chief arrangers, Bill Finegan and Jerry Gray. An admirer of fellow band leader Jimmie Lunceford, Miller imitated Luncefordís ensemble precision, using such eye-catching devices as the synchronized waving of derbies and plunger mutes by members of the brass sections as they created rhythmic "ooh-wah, ooh-wah" sounds behind the reed lines.
Because he had been a highly successful musician and arranger in New York City throughout the 1930s, Miller had no trouble getting some of the best sidemen in the business to play in his new band. The sidemen who performed in Miller's band included saxophonists Tex Beneke, Hal McIntyre, Al Klink, Ernie Caceras and Wilbur "Wee Willie" Schwartz (also lead clarinetist); trombonists Paul Tanner, Jimmy Priddy, Frank DíAnnolfo and Miller himself; trumpeters Ray Anthony, Billy May, Johnny Best and Bobby Hackett; and drummer Maurice "Mo" Purtill, bassist Trigger Alpert, guitarist Jack Lathrop and pianist Chummy MacGregor.
Millerís featured vocalists were not exceptional by themselves, but they blended together beautifully. Beneke usually was teamed with Marion Hutton and the bandís vocal group, the Modernaires (who were exceptional), on many of the bandís biggest hits. Singer Ray Eberle was "the young man in the romance department," as Miller often introduced him, who recorded almost all of the band's hit vocal ballads.
The Miller Approach

Glenn Millerís focus was always on the entire orchestra, not on individual soloistsóan emphasis that permanently estranged Miller from jazz purists and led jazz critics and musicians to debunk his music, then and now. If nothing fails like success, in their eyes Miller was the biggest failure of the Swing Era.
But Millerís musicians, particularly in his Army Air Force (AAF) band or, as it later would be called in England, "The Band of the Allied Expeditionary Forces," had as much room to improvise as musicians in other big bands of the era. And even jazz purists concede that Miller's AAF band could swing as well as any big band in the Swing Era.
A few of Miller's civilian band arrangements were extended for live performances and radio broadcasts, allowing ample time for solos; but all of the bandís songs and solos were severely limited by the three-to-four minute constraints of 10-inch, 78 records. Nevertheless, one of the best improvisations ever is Bobby Hackettís cornet solo on the civilian band's recording of A String of Pearls.
AAF band arrangements generally were longer than those for Millerís civilian band because they were designed for live performances and radio broadcasts, not recordings, allowing soloists more latitude.
Staying on top of the musical world was hectic. Fortunately, most band members were in their early 20s and withstood the rigorous schedule. Miller and his band gave hundreds of performances at ballrooms, theaters, and nightclubs from coast to coast, found time for several weekly radio broadcasts, and made records, records, and more records.
Millerís magnificent ballads brought couples together at ballrooms, jukebox hangouts or living room parties and linked them while they were separated by oceans and war. The bandís theme and most famous ballad, Moonlight Serenade, was dubbed our nation's "second national anthem" by Dave Garroway, who hosted the all-night 1160 Club on WMAQ in Chicago during the 1940s. And, some of the band's up-tempo numbers, such as In the Mood and A String of Pearls, were battle cries for a generation of bobby soxers.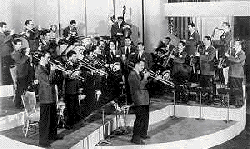 The bandís popularity persuaded 20th Century-Fox to produce two movies centering on Miller and his orchestra. Sun Valley Serenade in 1941 featured Sonja Henie and Milton Berle. A year later Orchestra Wives starred Ann Rutherford, George Montgomery, Lynn Bari, Jackie Gleason, and Cesar Romero. The real stars, of course, were Glenn Miller and his orchestra.
The nation's entry into World War II occurred at the height of Glenn Millerís popularity. Miller felt a deep, compelling obligation to bring his music to the servicemen and women fighting for their country. Only months before, they had danced to his band at the Cafe Rouge in the Hotel Pennsylvania in New York (phone: PA 6-5000), the Panther Room in the Sherman House in Chicago, or any of hundreds of nightclubs, ballrooms, and theaters from coast to coast. And that was Miller's motivation for seeking a commission. The Navy rejected his request, but not the Army Air Force. Almost as soon as Miller learned of his commission as a captain in September 1942, he disbanded his civilian orchestra and reported for duty on Oct. 7.
The civilian bandís final Chesterfield show aired on Sept. 24 from the Central Theater in Passaic, N.J. During the bandís rendition of Juke Box Saturday Night, the Harry James-inspired trumpet solo was actually played by James, whose band would replace Millerís on the broadcasts.
The Army Air Force Band

In the winter months, Miller handpicked the members for his 45-piece AAF orchestra, including string musicians from among the nation's top symphony orchestras.
In the spring of 1943, after completing basic training, they began rehearsals at Yale University in New Haven, Conn., which served as a training center for AAF cadets. Ironically, Miller rejected a 19-year-old pianist named Henry Mancini, whom a decade later would be selected to arrange the music and write the title theme for the The Glenn Miller Story. In later years, Manciniís influence on popular music would parallel and perhaps surpass Miller's.
Millerís AAF band was first-rate by any standards and included such outstanding sidemen as drummer Ray McKinley, saxophonist Hank Freeman, trumpeters 'Zeke' Zarchy and Bernie Privin, pianist Mel Powell, and vocalist Johnny Desmond, who moved to Chicago after the war to sing on Don McNeilís Breakfast Club every weekday morning.
In June 1943, Miller and his AAF band began a weekly radio series, "I Sustain the Wings," broadcast coast to coast on NBC. They also made numerous personal appearances across the nation. One of their last performances before going to England was at a Fifth War Loan Drive rally at the Chicago Theater on June 10, 1944. Miller began the bandís "I Sustain the Wings" broadcast that night by noting that already "12 million servicemen and women had passed through the Servicemenís Center in Chicago as guests of the city of Chicago."
Overpaid, Oversexed, and Over Here!

That's how the British often referred to the three million American GIs stationed in England before the D-Day invasion on June 6, 1944. But the British fell in love with Miller's band following its arrival a few weeks after D-Day. The band was renamed "the Band of the Allied Expeditionary Forces." The AEF band immediately began a hectic schedule of concerts, dances, and radio broadcasts.
"We didnít come here to set any fashions in music," Miller wrote from England in 1944 to George Simon (who 30 years later would write Millerís biography). "We merely came to bring a much-needed touch of home to some lads who have been here a couple of years." On Aug. 14, 1944, Miller was promoted to major.
On Oct. 30, 1944, Miller and the entire AEF Band went to Studio 1 of HMV's (His Master's Voice) Abbey Road studios in London (the same studios the Beatles would use some 20 years later) to record the first of six one-half hour radio programs to be beamed toward German troops. All announcements and most lyrics were transliterated into German. The six-show series began airing on Nov. 8th.
The recording equipment in these studios was state of the art for the 1940s. The broadcasts were finally released in a two-CD set in 1996 by BMG Music and are among the finest recordings available of Miller's music with either his civilian or AAF-AEF orchestras.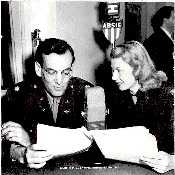 Hollywood movie star and singer Irene Manning (Yankee Doodle Dandy, Hollywood Canteen) was in London with other American performers entertaining members of the armed forces. She was invited to sing with the Miller orchestra on a couple of the German propaganda broadcasts. Manning told me in 1997 that she arrived early for each session at the Abbey Road studio to discuss the songs she would sing and study the transliterations. But she was surprised to learn there was no time for rehearsal. Manning simply had to wing it. And she did so beautifully, recording four songs in German:
All The Things You Are, Long Ago And Far Away, Mary's A Grand Old Name
(from
Yankee Doodle Dandy
), and
Begin The Beguine
.
Following Miller's disappearance in December 1944, his AEF band was led by Sergeant Ray McKinley and continued performing for Allied troops in Europe. During their year overseas, Miller's AEF band made some 500 radio broadcasts and gave more than 300 performances at concerts and dances. One of the largest concerts was presented on July 1, 1945 to 40,000 Allied troops at the Nuremberg Stadium, once the setting for Hitlerís rallies. American Patrol, one of Millerís biggest hits with his civilian band, received thunderous applause from grateful GIs.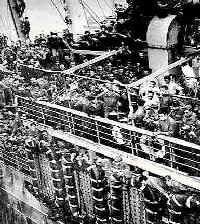 The Band of the Allied Expeditionary Forces returned to New York City on August 12, 1945. A few months later, the members of Miller's AAF band were discharged. Their leader had been gone since that fateful day in December 1944. Now the band was gone, too.
But not their music....
Six Decades of The Glenn Miller Orchestra

After the war, Tex Beneke was invited by the Glenn Miller Estate to lead the Glenn Miller Orchestra. Beneke had been one of Miller's personal favorites and was widely identified with Miller's civilian band. The Beneke-led GMO started performing in 1946 and immediately drew a good following. The band played both civilian and AAF-AEF band arrangements. In the late 1940s, Beneke introduced a number of new songs and some bebop numbers into the band's book as a way of staying with the times. Bebop did not set well with the Glenn Miller Estate, however, and they finally severed their association with Beneke. He later appeared in Miller alumni reunions, often teaming with Ray Eberle and the Modernaires and former members of Miller's civilian band. Beneke kept playing into the mid 1990s, always remembering those marvelous times he had with the civilian band, and always performing in the Miller style without the sanction of the Miller estate. He died in 1999.
RCA capitalized on the lasting popularity of Miller's music by encouraging the formation of the Ralph Flanagan Orchestra in 1949, which featured a "Singing Winds" reed voicing very similar to the Miller sound. Following the Flanagan band's first hit that year, You're Breaking My Heart, the band worked 574 times in the next 594 days!
Encouraged by the sustained success of Beneke and Flanagan, and also by the box-office success of The Glenn Miller Story in 1954, the Miller estate has managed numerous successor bands since 1956. Over the years, the "Official Glenn Miller Orchestra" has been directed by various leaders, including Ray McKinley, Buddy DeFranco, Peanuts Hucko, Buddy Morrow, Jimmy Henderson, and Larry O'Brien.

Larry O'Brien and the Glenn Miller Orchestra
Trombonist O'Brien has been leading the band since the early 1980s. The band, following in the tradition of Miller's civilian and Air Force bands, continues to play a hectic schedule of one-nighters throughout the United States and abroad almost 50 weeks each year. Fortunately, the O'Brien-led Miller band has recorded several superb CDs, including three wonderful Christmas albums. You can also look at the band's tour schedule on the Glenn Miller Orchestra web site to find out when they will be playing in your area.
Over There Today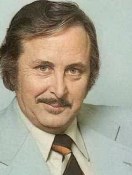 In Great Britain, the Syd Lawrence Orchestra has been playing music in the Miller mood for the past three decades. It has a loyal following throughout the U.K. and continues performing even though Lawrence died in 1998. Today, it is led by Chris Dean. CDs by the Lawrence band show just what an exceptional band it is. They are not readily available in the United States but may be ordered from online music stores such as Amazon's British web site.
And be sure to visit Pete King's Big Band Buddies entire web site to explore a wonderfully dedicated fan's devotion to the music of both Syd Lawrence and Glenn Miller. There is also an official Glenn Miller Orchestra U.K. led by Ray McVay sanctioned by the Miller estate that has been performing since 1989.
Beneath the equator, there is the excellent Australian Glenn Miller Tribute Band that was formed in 1995. This band is comprised of veteran musicians who love what they are doing. They are dedicated to Miller's music and even don uniforms imported from the United States with authentic badges and rank insignia.
The livery of "Supreme Headquarters Allied Expeditionary Forces," as it appeared on the AEF band's music stands in Bedford, England in late 1944, has been emblazoned on their stands.
The Sound of an Era

The enduring quality of Millerís music is that it was the sound of an era. Countless movies and made-for-television films set in the 1940s have featured the Miller reed voicing to evoke nostalgia. One of my favorites was the NBC miniseries in the late 1970s based on Anton Myrerís best-selling novel, The Last Convertible. The miniseries' musical director, Pete Rugulo, used the Miller sound throughout. Myrer named each section of his novel after a song from the 1940s: Racing With The Moon, I Don't Want To Walk Without You, Don't Get Around Much Anymore, It's Been A Long, Long Time, and Serenade In Blue.
When I hear that serenade in blue,
I'm somewhere in another world alone with you,
Sharing all the joys we used to know,
Many moons agoÖ.
Serenade in Blue (Gordon-Warren), recorded May 20, 1942.
Today, more than a hundred compact disc recordings of Glenn Miller's music are readily available. One only has to browse through Glenn Miller albums at major record stores or music web sites on the internet (see below) to realize that the Miller sound is going to be around for many, many more years. These CDs feature music by both Miller's civilian and AAF bands, as well as by the successor bands mentioned below. In recent years, a couple of dozen albums featuring radio broadcasts of Miller's civilian and AAF bands have appeared, usually of excellent fidelity, making Miller collectors throughout the world happy indeed.
Collectors also can find many LPs, 45 and 78 rpm recordings of Miller's music available at used record stores from coast-to-coast and abroad. These include those magnificent limited-edition albums from the 1950s, which have been collectors' items for half a century, as well as the reissue albums from the 1970s featuring every record Miller ever made for RCA's Victor and Bluebird labels.
Millerís music continues to be played by big band radio stations and on the internet across the country and around the world. The revival of swing music in recent years has created a renewed interest in big band music, and once again music in the Miller mood is very popular.If there is one reason for the lasting popularity of Glenn Millerís music, it is that his approach, his songs, his arrangements, and his musicians and singers provided just the right combination for their time. Just ask anyone who lived during the Swing Era.Or, discover the magic of music in the Miller mood for yourself. All you have to is listen.
George Spink is an American writer and jazz aficionado.